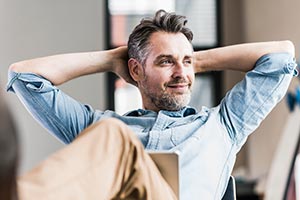 Best possible business coverage incomplete without legal expense insurance
Businesses of all sizes might run into legal issues at some point during their lifecycles.
Legal support for business owners
Businesses of all sizes might run into legal issues at some point during their lifecycles. A landlord contracted with a firm to install a new HVAC system in an apartment high-rise might find the work is substandard and requires a lawyer to negotiate payment for completed work before terminating the balance of the contract. A manufacturing firm hires a new employee who completes safety training, and then is terminated for careless behaviour that puts him and his co-workers at-risk months down the line, after which the ex-employee sues for discrimination. A fast food restaurant is charged following an inspection and faces fines that the owner deems excessive, so he looks to an expert to discuss the issue and decides to appeal the notice as well as the fine.

In all these cases, ARAG's Business Legal Solutions policy was there to provide business owners with the legal support they needed, whether it was through connecting them with lawyers or covering legal expenses during a dispute.
LEI as risk management tool
Legal expense insurance (LEI) is a new level of risk management available to business owners across Canada. The ARAG Business Legal Solutions policy will address the most common, day-to-day legal situations that arise that are not covered by traditional insurance policies such as liability, D&O, E&O, etcetera. The benefit is that rather than budgeting for unforeseen legal situations, the business owner can transfer the risk exposure to an insurance policy.

The ARAG policy gives insureds access to unlimited 24/7 legal advice via telephone on any topic and with no limits on the length of the call or the number of questions asked – important when owners run into complicated legal hurdles that they need help navigating. If an event does evolve into a claim, the LEI policy will respond by paying all legal fees and associated costs.
Common legal situations
Common legal situations that businesses can encounter include needing defence at a human rights tribunal, appealing an assessment by the Canada Revenue Agency, and requiring defence during a Ministry of Labour investigation, among others. Legal expense insurance can be especially critical for small business entities who rarely budget for these types of events.

They usually try to deal with the costs as they arise, which means they might dip into capital, have to downsize on staff, or, worst-case scenario, close their doors. Employment dispute claims normally run between $7,500 and $10,000 in legal costs per claim, a tax claim may be around $12,000, a contract dispute averages $25,000, while a defence of workplace injury could run well over $100,000.
The best possible insurance cover
As ARAG makes inroads into the Canadian market, the company is working with brokers to drive awareness around LEI. For those brokers, the policy offers a way to differentiate their brokerage from others, and helps protect both their commercial clients and their own businesses.

Those brokers that promote LEI are ensuring that they are not only protecting their clients, but also themselves. What if a business owner experiences a legal situation that costs them thousands of dollars to resolve and then later finds out an insurance policy would have paid those costs? Brokers owe it their clients, their E&O insurer, and to their brokerage to offer the best possible insurance cover available and that includes LEI. By offering an ARAG Business Legal Solutions policy to business owners, you are protecting their most valuable assets, their livelihood, and their longevity.
The billion-dollar opportunity in legal expense insurance
Protecting families and businesses against the risk of unforeseen legal costs is still a relatively new form of insurance in Canada, but having originated in Europe, legal protection now generates close to C$20 billion globally and the opportunity for Canada is huge.
Legal expense insurance takes risk management to a new level
While the threat of legal action may not be new to business owners, the opportunity to mitigate is a vital development in commercial risk management.
How ARAG can help
Our products range from families to businesses to landlords. Differentiate yourself with ARAG.